How to grow your business with Amazon PPC in 2021?
Amazon PPC (Pay-Per-Click) advertising has developed into a powerful marketing channel on Amazon. Therefore, Running Amazon PPC ads enables sellers to 'buy' visibility for their products at the top of Amazon's search results page.
However, the number of sellers leveraging Amazon PPC's potential continues to grow significantly year over year. So, without Amazon PPC strategy in place, it may become difficult to achieve your advertising goals.
What Is Amazon PPC?
Amazon PPC is an advertising model in which advertisers pay a fee to Amazon when a shopper clicks on their ad (pay-per-click). There are 3 Amazon ad types available: Sponsored Products, Sponsored Brands and Sponsored Display Ads. The latter is a new and extended version of the former Product Display ads – PDAs.
Sponsored Products – keyword- and ASIN-targeted ads similar to Google Adwords, that enable advertisers to promote individual products within Amazon search results and on product detail pages. They are the most popular ads on Amazon.
Sponsored Brands – ads for brand building that allow brands to promote a custom headline, brand logo, and up to 3 products in their ad in the top spot above Amazon search results (and other placements), with the ability to send shoppers to their Amazon Stores page or a custom landing page on Amazon. Newly available are also video ads linking to product detail pages.
Sponsored brand
Sponsored Display ads – ads that send shoppers to Amazon product detail pages. They deliver relevant ads both on Amazon and on external websites to shoppers who are visiting or visited (remarketing) specific products on Amazon.
Sponsored Display ad
Where do Amazon PPC ads appear?
Sponsored Product ads appear in two locations on Amazon: within search results and on Amazon product detail pages as part of an ad carousel close to the top of the page.
They are displayed in different spots in the Amazon search results page, including the 'top real estate' placement above the search results. Sponsored Brands ads can also appear on product detail pages. Read our beginner's guide to Amazon Sponsored Brands to learn more about using this ad format.
Sponsored Display ads appear below the "Add to Cart" button on Amazon product detail pages, next to and below search results, or on third-party websites and apps depending on the chosen targeting method.
Why You Should Consider Using Amazon Sponsored Product Ads
If you haven't already, now is the time to get into Amazon PPC advertising.
There are several reasons to start running ads on Amazon, even if your products are already showing great results and sales. Say you have taken advantage of Google Ads and have done pay per click for your landing and product pages. Then, why not diversify?
Ask yourself the following:
Do I have a new product that I want to boost?
Are my products seasonal and can use a boost during certain times of the year?
Do I have a lot of top competitors and want to keep my brand at the top?
Do I want to boost sales for all products in my product line?
If you answered "Yes" to any of these questions, you should definitely consider advertising on Amazon through sponsored products.
Amazon PPC vs. Google Ads
While both Amazon PPC and Google Ads are similar in many aspects, there are still some key differences when advertising sponsored products on Amazon:
You must have the "Buy Box" to make your Sponsored Product ads run on Amazon. The "Buy Box" is the box on a product detail page where customers can begin the purchasing process by adding items to their shopping carts.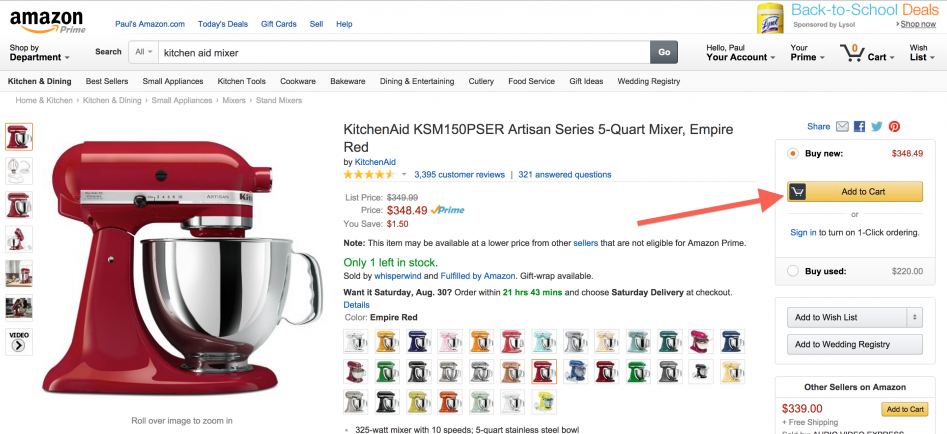 Amazon sponsored ad groups allow a maximum of 1,000 keywords.
Automatic campaigns on Amazon are much more reliable than on Google Ads.
You can take advantage of product reviews as additional keywords toward your product ad rank.
Advertisements on Amazon are solely for sales, whereas Google Ads can be focused on information, signing up for an event, etc.
Although many of the strategies are similar, it's easy to see that there are plenty of ways to take advantage of Amazon PPC, even if you still want to stick with Google Ads.
Related Resources
Would you like to win a 1-Year trial of PricingScan?
Also Take advantage of PricingScan's 15-day trial, the first complete Amazon Sellers App with dynamic pricing.